The Top D, a top pattern from The Roberts collection by Marilla Walker. The Roberts Collection is of course much more than a top pattern, its a pattern you could make a whole wardrobe of clothes from. A dungaree dress, dungarees, jumpsuit, top. Probably more!
Oh, how I love a simple garment. With that often come a simple sew. What could be better?
The V-neck on this pattern is perfection for me, not too low or too high and it has that lovely soft v shape.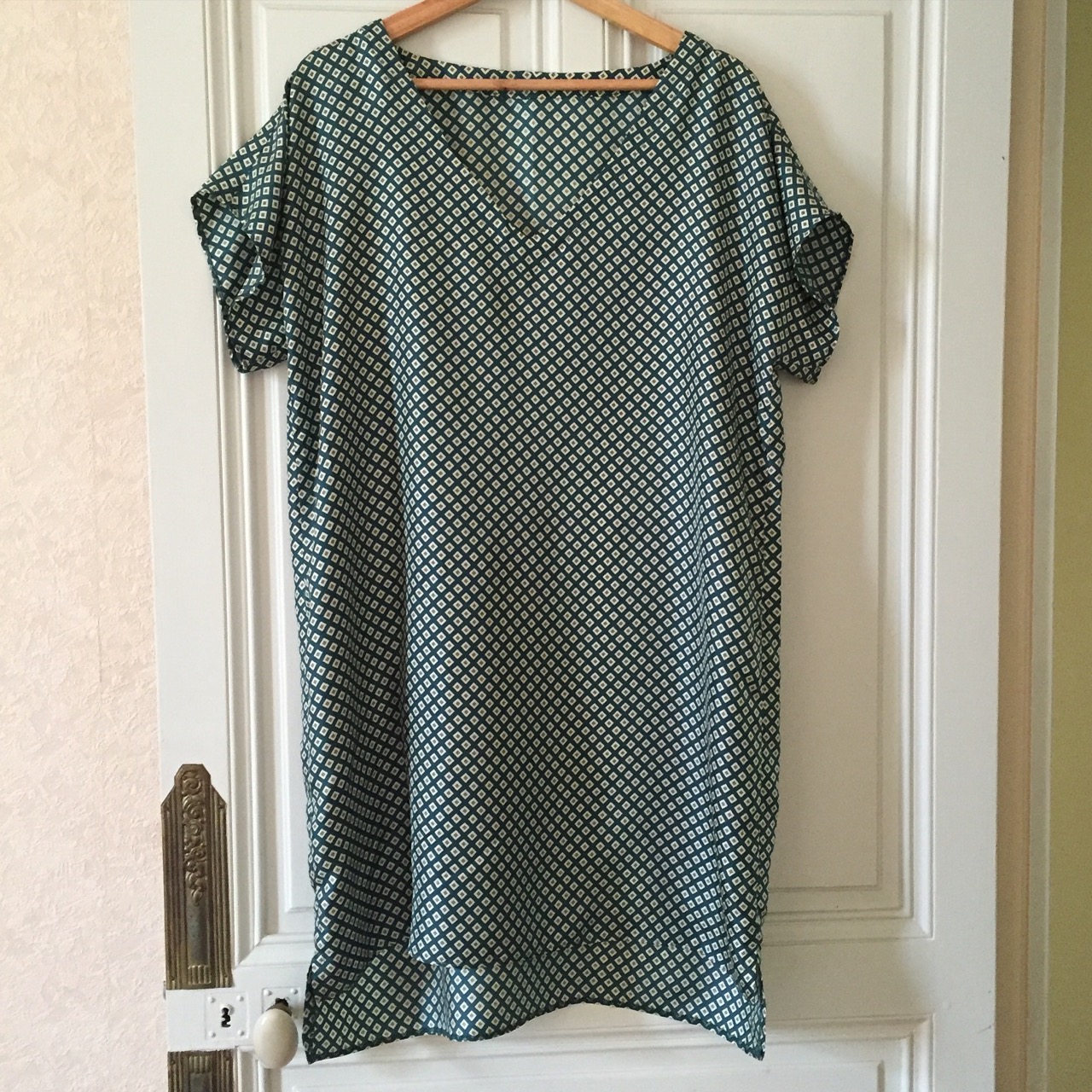 I do not feel as if i have done this pattern justice as i didn't add in the gorgeous upside down v design bit on the back. I realised I just wanted a simple straight down v neck for some silk that i had bought from Ditto last year. it sometimes takes me a while of looking and touching a fabric to work out what to make with it especially if its a favourite piece. I was originally going to make a blouse with a gathered detail on the shoulders. So glad I didn't as I absolutely love how this turned out. I ignored the design bit on the back by sticking the pattern pieces together taking away the seam allowances on that bit. I lengthened the whole length as much as the fabric i had available and also extended the sleeves by an inch or so. The colours are perfect for me, lovely drape and feels gorgeous, cool in the heat. Just love it!!!
And then theres my number 2 version of Top D. Another piece fabric that I had been picking up and wondering about for ages, a remnant of heavy linen, with good drape. What to sew with it? I am often drawn to the aesthetics of Elizabeth Suzann, her use of simple colours and simple designs and her use of gorgeous silk and linen. So with this inspiration I thought why not try to make a top out of my linen.
I was a bit worried that it was going to be a bit heavy. As always I hate waste and I'm unlikely to want two garments out of the same fabric so I made the top as long as the remnant I had and cut the facings out of a liberty scrap I had. For this reason I own a lot of tunics! The linen would have been too thick for facings anyway.
This Linen version has turned out a little bit short, fine with leggings I think. It will be fine to knock about the house and pool without leggings.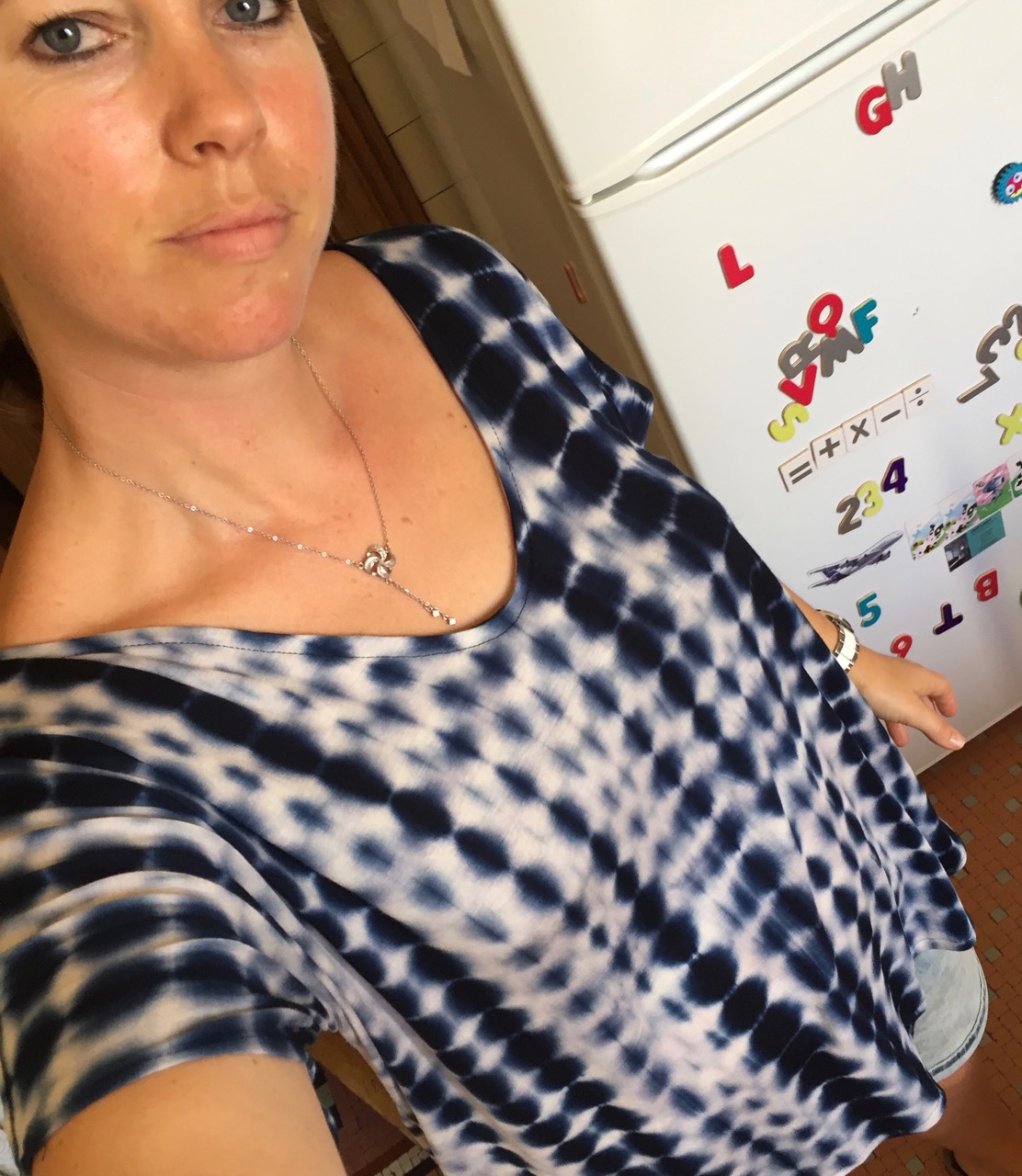 So, I also tried Top D in a knit fabric. It has already been worn to death with denim shorts. I found the fabric, a floaty viscose with tie dye pattern from my favourite fabric shop in the center of Carcassonne. I didn't alter what I did from the other two tops apart from make it a bit shorter so it became a comfy T-shirt. Its not really pretty on the inside as I still have to fight with my coverstitch machine. Its the newer Janome coverstitch and although I love what it does enabling me to finish off my knit hems properly I always have a fight with it missing stitches. I might try some different needles and see if that makes a difference. But still, my T-shirt is a hit.
Whats up next? Im thinking of joining in with the refashioners organised by Portia at Makery. The challenge is to make something you would wear from and old pair of jeans. I'm thinking a dungaree dress hack from The Roberts collection. Luckily we've got until the end of september which is great for me as I can get it done once school starts again. I will have to find some jeans from somewhere, I Marie Kondoed last year! Most of my extra jeans that didn't give me joy went out. I'll have to see if there are any lurking. I'm actually thinking of having another clear out. I dont get the bit where you do it only once. I've had nearly another year of accumulating and not sorting as I go!
Anyway, rambling off, I love the wardrobe possibilities that can result from sewing using the Roberts Collection and I love top D.