Recently I saw on Instagram that Marisa of MLM Patrons was looking for a pattern tester for her bigger size! "That matches me" I thought "and I haven't pattern tested before. Im going to email her!" EEk! It was all in French too! I was having a confident day obviously.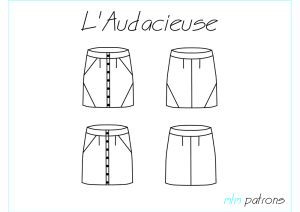 The pattern that she emailed me was right up my street, a cute little button down skirt with pockets (my fav!) and if you fancied, a little geometric twist for the bottom of the skirt mirroring the pockets. Lots of design options here, including colour blocking and piping. I wanted to play it safe for my first skirt and chose to leave it plain. I already had a dark blue grey needlecord fabric in my stash ready for a moss skirt (grainline studios). Sorry Moss skirt i'll have to make you again another time!
The pdf pattern is slightly different to what I'm used to in that there are no printed printer borders which means no cutting off edges, you can just line up the pages and stick them with tape. Seemed to work well and after sticking you draw in the missing lines where the printer didn't print. Does that make sense?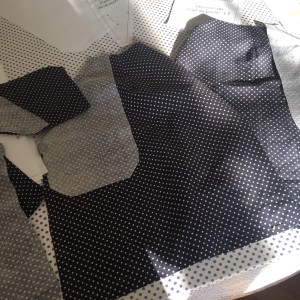 After a little toile test I was away with my needlecord. The instructions are clear in French! I'm not sure if Marisa will produce some in English or not? Could always try a bit of google translate, diagrams are clear! I'll have to ask her if shes going to translate them.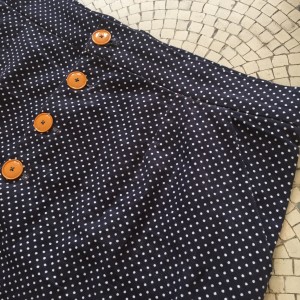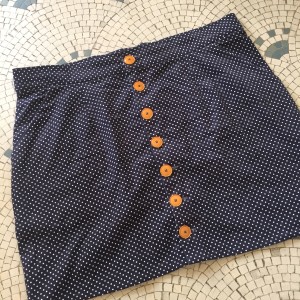 Sewing up the skirt is all fairly quick especially if you are not planning piping or triangle bits. Pockets are straight forward as is the waistband. Unusually I really enjoyed sewing my button holes and this was even after a having needle and thread breaking crisis! Love my orange buttons!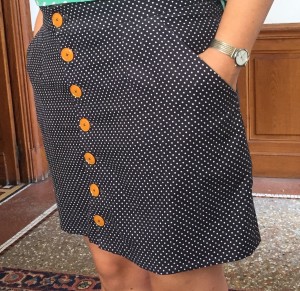 I'm glad Marisa let me pattern test as it turned out to be a very rewarding experience. Im quite proud of myself for the testing bit, the sewing bit and the french bit (even though my written french results may have been a bit rough round the edges!) Great pattern resulting in a very comfortable, versatile chic skirt to wear! Im wearing it today in honour of Marisa releasing the pattern! There is already some fabric set aside for my second Audacieuse!