Seems like ages ago now, I think just a couple of weeks.  I made a another skirt from mlm patrons, the Audacieuse. I already had the piece of wool remnant in my stash and immediately  I came across it I knew it was destined to be another little button down skirt. My first tester skirt was made of dotty needle cord.
I think Marisa (mlmpatrons)  had altered the pattern slightly from the original that i tested, i decided to go down a size this time to match my measurements better. I did still take it in a little at the sides. Other than that it was a straight forward make. I might if I get round to it put in a little lining as sometimes it the fabric gets stuck on my tights or leggings.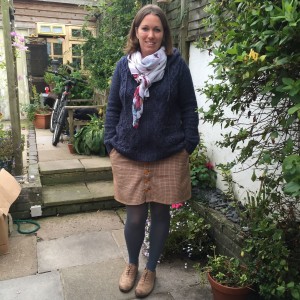 Ooo, and also i used a walking foot for the first time because the wool was stretching out. it made a massive difference. I don't know if you can see on this picture or not, the right side was the walking foot!
I am happy with the result and i reckon it will get lots of wear. Theres a little stripe of blue in the fabric that i can match my top half to. Happy!
This pattern is in French but if anyone fancies trying it I can help you translate the instructions!